Smart Hub: Expert ACMV Recommendations for COV-19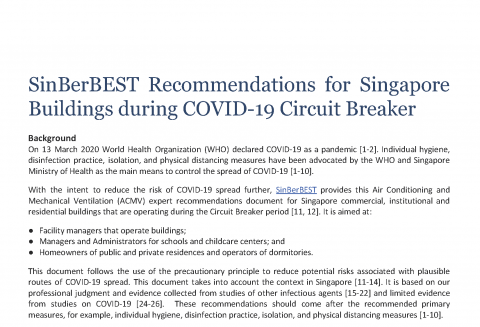 In April 2020, The Super Low Energy Building (SLEB) Smart Hub, a portal for accessing and examining the latest green technologies with building proprietors, professionals, researchers, and policymakers, incorporated SinBerBEST's  Air Conditioning and Mechanical Ventilation (ACMV) consummate recommendations aimed at minimizing the further spread of COVID-19 in Singapore. This document is targeted at the commercial, institutional and residential buildings that are open during the Circuit Breaker period. SinBerBEST Program Director, Zuraimi Sultan, Theme Leader, Stefano Schiavon, and researcher, Jovan Pantelic, led this team, which consisted of Jiayu Li, Jose Ali Porras-Salazar, and others.
These guidelines will be further developed in the coming months. To access these ACMV guidelines, please click here.