SinBerBEST Principal Investigators interviewed in Singapore newspaper Lian He Zao Bao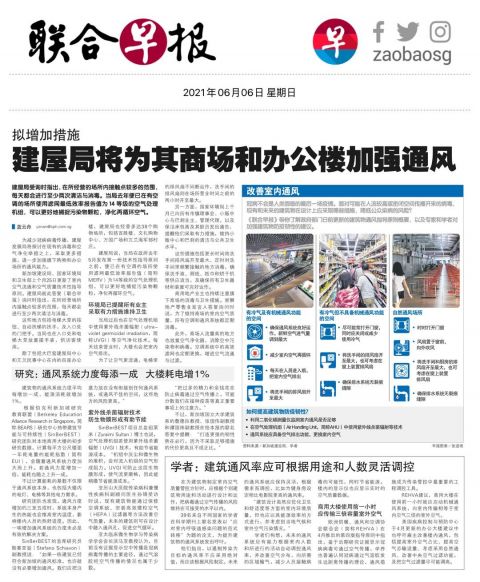 Professors Schiavon, Tham and Sekhar were interviewed in the Lian He Zao Bao, the largest Singaporean Chinese-language newspaper with a daily circulation of about 200,000. The article discusses the Singapore government updated guidelines on improving building ventilation to strengthen the resilience against COVID-19 pandemic.
Prof Tham and Sekhar noted that future building design should have both pandemic and non-pandemic modes of operation. The latter will focus on sustainable development, low-carbon or carbon-neutral operations, and energy efficiency while the former will focus on protecting and slowing down the spread of the virus, combined with pre-conceived administrative control, to provide proper protection. Prof Schiavon shared the findings on energy impacts of higher ventilation under pandemic mode of buildings and also it may cause thermal comfort issues.
However, it was agreed that building stronger resilience is imperative, because the cost of not taking adequate measures is higher and incommensurate. The Chinese version of the article can be found here and here.