SinBerBEST PhD Student Wins Best Paper Award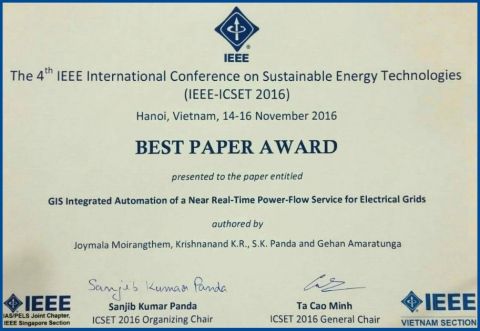 PhD student Krishnanand Radhakrishnan and Dr. Joymala Moirangthem of NUS received the Best Paper Award at the 2016 IEEE International Conference on Sustainable Energy Technologies for their work titled "GIS Integrated Automation of a Near Real-Time Power-Flow Service for Electrical Grids."
In this paper, they discussed how the future of high renewable energy penetration and its power variability necessitate fast power-flow computations for power management. This management requires minimal human intervention, which is achievable through fast and reliable automations. Holomorphic Embedded Power Flow (HEPF), a Geographic Information System integrated automation of a non-iterative power-flow method, can be used to generate near real-time updates of a power system's electrical state. These updates are useful for power management.
Congratulations.